Inauguration of New Board Members for NPRA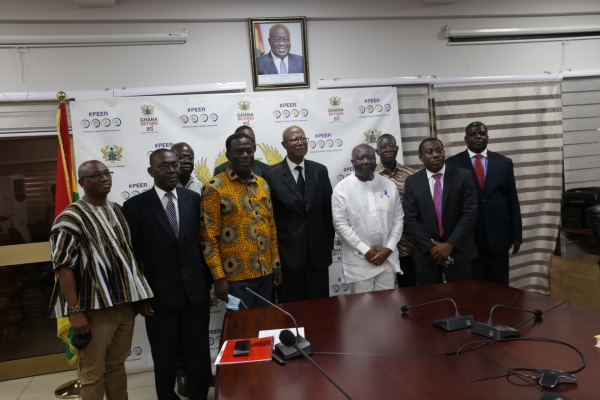 Hon. Ignatius Baffour-Awuah, Minister of Employment and Labour Relations and Hon. Ken Ofori-Atta, Minister of Finance on 26th November 2021 jointly inaugurated an 11-Member Board of the National Pensions Regulatory Authority (NPRA).
The new Board is under the Chairmanship of Mr Paul Simon Koranteng, with Mr Hayford Attah Krufi, Chief Executive Officer of NPRA and Mr Bright Wireko Brobbey, the Deputy Minister of Employment and Labour Relations, Reverend Daniel Ogbarmey Tetteh, Director General of Securities and Exchange Commission and Alexander Nyarko-Opoku and Dr Justice Duffu Yankson, both representing organized labour as members.
Other members include Hon.Sekyere Benjamin Yeboah a representative of the President, Mrs. Elsie Addo Awadzi representing Bank of Ghana, Mr Joseph Nii Noi Adumuah, a representative of National Pensioners Association; Hon. Diana Asonoba Dapaah, a representative of the Attorney General and Minister of Justice and Mr Alexander Frimpong of the Ghana Employers Association.
Hon. Ignatius Baffour-Awuah in his opening remarks said retirement is one of the realities of life that cannot be avoided and as such pension matters are serious social protection issues, which ought to be taken seriously by any government. He urged the Board to ensure that the pension industry is well managed to avoid any mishap.
Minister of Finance, Hon. Ken Ofori-Atta on his part said there is the need to position pension as a catalyst for economic transformation. He said, "we need to provide mortgages, infrastructure and long-term lending to industry and agriculture". Adding that globally, pension funds were created to support this, and that it was pension assets which had led infrastructure renaissance in many developed countries.
He indicated that pension funds are medium to long term in nature as such requires long term investment. To this end he said there is an ongoing industry engagement to enable a reform that would enable banks to issue securities for pension funds, Collective Investment Schemes (CIS) and insurance investment portfolios to participate in, which is expected to result in GHS 300 million debt issuance every month on the Ghana's Fixed Income Market.
He said this will address the situation where significant amount of pension funds are locked up in the short-term opportunities (FDs) with Banks.
On the issue of governance, The Hon. Minister of Finance bemoaned the practice where trustees and administrators undermine the role of fund managers, and
micro-manage the investment process which he said was not of international standard and would derail the efforts made to use pension industry to transform the economy. He therefore called on the new Board of NPRA to quickly stem this practice.
Regarding the informal sector pensions, Hon. Ken Ofori-Atta said the NPRA is expected to lead the efforts in establishing an informal sector pension scheme, with a focus on cocoa farmers. He said a preparatory work has been done by a team led by the CEO of NPRA which need to be implemented in the 2nd half of the year.
Mr Paul Koranteng, the Board Chairman on behalf of his colleagues, thanked His Excellency President Nana Addo Dankwa Akufo-Addo, for the confidence reposed in them. He said they would contribute their quota to the success of the government and for the people of Ghana. He indicated that the new board would do everything within their power to safeguard the pension funds.
Mr. Hayford Attah Krufi, the Chief Executive of NPRA on his part said he and his team of management and staff would do everything possible to execute the Board's strategic plan to promote Ghana's socioeconomic development.